One-hit wonders come in so many forms. For some, it's the only decent song they ever wrote. For others, it's just the only one that hit big.
But for a band like the Cardigans, it's a different story. The Cardigans are a Swedish band who have been making music since 1992, and have had continual success before and after their big U.S. hit "Lovefool" in the UK and other non-English speaking European countries like Sweden, France, Norway and Germany. We in the U.S. usually measure the success of a band by how big they are in our country, which is hard not to do when you see that, for instance, '80s rockers Night Ranger sell out stadiums in Japan. But that line of thinking causes us to miss out on a lot of great music.
The Cardigans came together when two heavy metal musicians, Peter Svensson and Magnus Sveningsson decided to record a pop demo with singer Nina Persson--who, with her petite frame and steely blue eyes, is/was one of the most beautiful women to emerge in rock n' roll since Deborah Harry. In 1994, the group released their debut,
Emmerdale
, and their first single "Rise & Shine," which would go on to become a hit on Swedish radio. The group followed it up with
Life
, which sold over a million copies worldwide and went platinum...in Japan.
Around this time, U.S. labels began to take notice of the international sensation that The Cardigans had become. The group signed to Mercury Records and released 1996's
The First Band on the Moon
. Persson's lyrics delved into darker places than their previous recordings, dealing with heartbreak and infidelity. Thanks in part to the first single "Lovefool," the album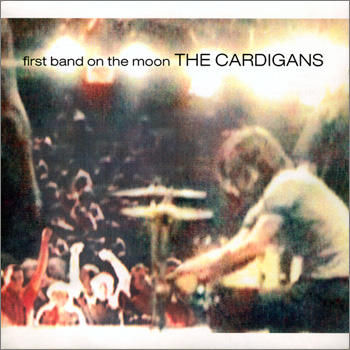 went platinum in Japan in record breaking time and achieved gold status in the U.S.
"Lovefool" is a feather-light pop ditty with a melody and beat so catchy, it has since been used to comedic effect as the prototypical song that can get stuck in your head after uttering only a few lines of its bubblegum chorus (see
The Office
(US) Season 3, "The Initiation").
Love me, love me, say that you love me...
See? it's stuck in your head already
.
The song's success was buoyed by its appearence on the highly successful
William Shakespeare's
Romeo + Juliet
soundtrack. And like so many other one-hit wonders of the '90s, the band appeared on
Beverly Hills 90210
, all but cementing their status as one-hit wonders.
The song also birthed two different videos--a disturbingly funny and sexual one for European audiences and a more cartoony, MTV friendly one for U.S. audiences. The European version features a group of men (who I assume are the male members of the band) entering a warehouse that turns out to be a brothel offering sometimes garishly made up middle aged prostitutes. The men all look extremely bored as the hookers grind in their face. Off to the side, the video cuts between one of the men is listening to a tape made by Nina Persson, and Persson herself recording the tape (which is made up of the lyrics). At the end of the tape, the man appears to be crying while one of the hookers grinds on him, that is until Persson enters the brothel and the two are reunited at last. It's as weird as it sounds, and probably weirder. This one is superior for many reasons, not the least of which is that Nina Persson looks like some beautiful Nordic pixie goddess that will have you scrambling on Priceline for a ticket to Sweden (not that she looks bad in the U.S. version, but there's just something about her in this one...).
The second one is the one you always saw on TV if you live in America, the band stuck in a bottle that was passed out to sea by a castaway. This one was often shown with clips from
Romeo + Juliet
interspersed throughout.
"Lovefool" charted in practically every country on God's green goodness:
Sweden - #15
Australia - #11
Austria - #7
France - #31
Germany - #6
Latvia - #2
Switzerland - #22
UK - #21 (rerelease hit #2 in 1997)
And of course, in the U.S. it was #1 on the Billboards with a bullet. And when a band has known that high a level of international fame, it's nearly impossible to follow up--but as usual, they tried.
"Been It" was the follow up single. And what can you say? It's far more in line with the rest of the album and the band's other material than the lite-pop of "Lovefool." It's a beautifully catchy pop-rock song, though admittedly, it isn't as immediately toothache inducing as the hit. It's a little more rockin' (okay
a lot
more rockin', with a pretty sweet little riff to boot), a little less poppy and the lyrics couldn't have helped:
I've been your mother, I've been your father
who can ask for more
I've been your sister, I've been your mistress
maybe I was your whore
who can ask for more
Not the stuff pop hits are usually made of
,
Nina.
"Been It" only reached #72 on the Billboards U.S. and #56 in the UK . This is one of those things where there's seemingly no rhyme or reason to it, except that the song was so overplayed at the time that people came to associate The Cardigans with "Lovefool" and only "Lovefool." It was the last Cardigans single to chart on the Hot 100 in the U.S.
No matter though, the band went on to make great music and experienced continued success in Britain, Japan and other countries outside the U.S. (they've charted nearly a dozen times in the UK since "Lovefool"). Their follow up album, 1998's
Gran Turismo
, outsold
First Band on the Moon
by a half a million copies, though it only made it to #151 in the US. The album did birth one hit on the Modern Rock charts, "My Favourite game" hit #16 after being included on the video game also titled Gran Turismo. The
controversial video
didn't hurt either.
That album also features one of the band's best songs, a deep cut introduced to me by a friend on a mixtape--"Junk of the Hearts," an absolutely gorgeous country-ish love song with some lovely pedal steel work and some great rock flourishes.
The Cardigans have released two albums in recent years, 2003's
Long Gone Before Daylight
and 2005's
Super Extra Gravity
. While the album sales aren't what they used to be (note: the drop in sales correlates directly to the bands decision to stop including Black Sabbath covers on each album; coincidence, I think not), the band hasn't called it quits just yet. They're currently on hiatus, though there are plans to reunite. And in the meantime, Nina Persson has released two albums with her husband, ex-Shudder to Think member Nathan Larson under the name A Camp. Their new album,
Colonia
, is to be released February 2, 2009. Persson is
currently touring
in support of the album.
In 2008, a 2-disc
Best Of
compilation released in Europe cemented their status as international superstars. Appropriately enough, there are no plans to release the album in the U.S., though it can be purchased as an import. U.S. listeners owe it to themselves to give The Cardigans a chance; they really are better than your average pop band.
Oh, and Nina Persson is still gorgeous.
THE FIRST SINGLE: B+
THE SECOND SINGLE: A-
Download:
The Cardigans - Lovefool
Download:
The Cardigans - Been It
BONUS Download:
The Cardigans - Junk of the Hearts
Buy Cardigans stuff!