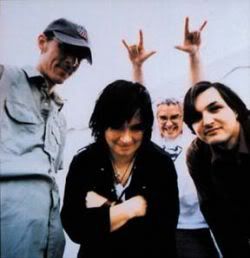 In the wake of Nirvana's success, tons of bands deemed "grunge" got signed to major labels. I'm not talking about the indie, alternative bands that majors raided to fill up their rosters in a vain attempt to discover the next Nirvana. No, I'm talking about the bands that were heavily mining
Nevermind
for how to construct this new sound even
before
Nirvana's tragic end.
Around the same time, a young, unknown comic progeny named Ben Stiller had a short-lived show on the Fox network entitled,
The Ben Stiller Show
, featuring Andy Dick, Janeane Garafalo and Bob Odenkirk and written by some dude named Judd Apatow.
Anyways, the show featured skits mostly making fun of movies or TV shows, and a whole lot laughing at the self-seriousness of the Gen-X movement. One of the best was a parody of the '60s live-action cartoon show
The Monkees
--
The Grungies
.
Ahead of its time, if you ask me.
Grunge was still cool at the time of Stiller's show and the genre hadn't yet given way to the awful crap that was to come--a type of music that essentially
was
a parody of the Seattle scene. Indeed, this genre continues to plague us almost 15 years later. You hear it any time you turn your dial to the modern rock station, under the guises of bands with nonsensical names like Hoobastank and Nickleback. It spills out of the car windows of teenagers driving their grandma's car while they sit bobbing their head in the driver's seat wearing their backwards hats and black t-shirts they bought at Sam Goody. That's right, it's
POST-GRUNGE!
I will give you a minute to clean up, because you no doubt just shit yourself at the very mention of that name. Now, what is the difference between grunge and post-grunge? Funny you should ask.
Grunge -
adopting the sludgy sounds of metal gods Black Sabbath and the lyrical and musical attack of punk godfathers like The Stooges, grunge conveyed elements of heavy metal and punk with loud, distorted guitars, apathetic lyrics, and loud-soft dynamics. Hardcore punk/sludge metal bands like Black Flag and the Melvins--from nearby Montesano, Washington--were often name checked as huge sources of inspiration. However, there was also a notable influence from indie-rock, an influence which grew after heavier grunge bands like Mudhoney, Soundgarden and Green River gave way to more melodically inclined bands like Nirvana, who were as influenced by indie-rockers like R.E.M., the Pixies and Dinosaur Jr as they were hardcore and metal. Pearl Jam, Soundgarden and their hybrid, Temple of the Dog, also show a large classic rock influence--namely that of Led Zeppelin.

Other grunge bands of note:
Mother Love Bone, Screaming Trees, Alice in Chains.
Post-grunge
- (with help from allmusic.com) a subgenre of alternative rock and a derivative of grunge music that began after the mainstream success of bands out of Washington like Nirvana,
Soundgarden and Pearl Jam around 1994. Post-grunge incorporates many of the features of grunge music: loud-quiet dynamics, distorted guitars, angst-ridden lyrics, lead singers with scratchy, angsty voices or voices that flat out rip-off Kurt Cobain or Eddie Vedder, BUT, the music is generally more slickly produced, radio-friendly and without the idiosyncrasies and nuances of the bands that influenced them. Post-grunge bands generally took the loud guitars, angsty singers, perceived self-seriousness, and of course, the long, greasy hair and flannel shirts, and homogenized it into faceless commercial radio-rock. Also note that post-grunge started off okay, quickly became mediocre and now is the scourge of the music world.
See:
Days of the New, Bush, Live, Collective Soul* and later Creed, Hinder, Seether, Staind, etc. As of 2009, post-grunge has gone from being "alternative rock" in the mid-90s to taking over modern rock radio almost entirely.
That's not to suggest that all post-grunge bands were bad and all grunge bands were good. Post-grunge had some great acts like Local H, and grunge had its fair share of crappy acts, one of which I choose not to name for fear of an enormous backlash from their rabid fanbase.
One of the bands who came straight out of the gates following the success of
Nevermind
--and happened to be actually decent--was the Ft. Worth, Texas band, Toadies. Clearly influenced by the Pixies as much as Nirvana and grunge, the band mixed their post-grunge sounds with a menacing psychedelic influence and an occasional touch of southern blues rock (think a hard-edged ZZ Top).
Started in 1989 by head songwriter/lead vocalist Todd Lewis, the band issued a series of self-released cassette singles before releasing an EP titled
Pleather
in 1993. The EP--which featured an early version of the soon-to-be-classic "Possum Kingdom"--gained the attention of major record labels and after singing to Interscope, the band released their first full-length,
Rubberneck
, in 1995.
The first single, "Possum Kingdom" (or as it was listed on Napster back in the day, "Do You Wanna Die?") is one of the best and best-known hard rock singles of the post-Nirvana era. It's one of the few classics to come from this period, and one listen to the song shows why. Something of a grunge epic, the tune features a crushing riff, three distinct (and equally ass kicking) sections, a time signature change, and tells a strange story that--depending on whom you ask--is either about vampires,
the Zodiac killer, a girl losing her virginity, a rape, or some kind of ghost story. Taking a cue from Phil Collins, whose "In the Air Tonight' has experienced years of success based on its creepy plot, Lewis never gave a straight answer to the press or fans, but did explain his inspirations. The song is named after Possum Kingdom State Park and Lewis claimed at the time that it was inspired by stories he'd heard concerning the park's "eerie lake" where he and his family used to barbecue. Nevertheless, the group reportedly gained a large vampire following--that is to say, lame
Buffy
fans in Tampa liked to put in fake teeth and dress like Dracula and come to Toadies shows and sing along. Think of the old SNL skit, "Goth Talk" with Molly Shannon and Chris Kataan and you've got a good idea of this fanbase. Don't get any ideas,
Twilight
fans.
The supremely creepy music video--which opens with a body bag being pulled from a lake--did nothing to dissuade any creepy interpretations of the song. (Oh yeah, and that is a chick bass player--the ultimate sign of a good alternative rock band. Or at least a sign that you like the Pixies and/or Sonic Youth.)
The song was a smash hit, charting high on the Modern Rock and Mainstream Rock charts and even cracked the Hot 100. Not bad for a song that repeatedly asks the listener if they would like to die.
"Possum Kingdom" was one of five singles off
Rubberneck
released by the label, which may sound like overkill, considering that means nearly half the album being played on rock radio--not a common occurence unless you're Red Hot Chili Peppers. Despite the airplay, "Mister Love," "Backslider" and "Tyler" all failed to chart, even though the latter even featured its own video. The only one that had any staying power was "Away"--the direct follow-up to "Possum Kingdom."
"Away" starts out like a Nirvana deep cut with its soft-loud-soft dynamics and guitarist Darrell Herbert's snakey lead fills which sound possessed by the Pixies Joey Santiago. But once you get past the obvious influences and realize that the Toadies concern themselves more with crafting great riffs and writing above average lyrics than creating something original, you start to realize just how good the song is. It's not quite as epically awesome as "Possum Kingdom"--though it does feature a similar, truncated structure--but it's got that same underlying creepiness, a bone-crushing riff and a good level of head-bangability. When Nirvana has ended prematurely and the Pixies have folded, and you're still yearning for some heavy, well constructed rock, the Toadies--and "Away" especially--fit the bill.
"Away" went to #23 on the Mainstream Rock chart and #28 on the Modern chart.
I also have to include "Tyler," just because it's a great rock song. Talk about unoriginal--I'm fairly certain this song is
on
Doolittle
by the Pixies. But guess what? I don't care, cause the song is so goddamn hooky and fun. If you're going to steal, do it well, and steal from the best (but maybe don't let Frank Black hear you, he might start asking for royalties). While it wasn't a hit, it became a favorite at Toadies shows and still received tons of airplay.
So now then. With a hit album that went gold immediately and platinum a year later, the Toadies were primed to be a successful band, and not just a one-hit wonder. So what the hell happened?
Like with most of these bands, their label screwed them. After touring for two years with bands like Butthole Surfers and Red Hot Chili Peppers, the band eventually headed back into the
studio. After recording a full album titled
Feeler
, which was being eyed for a 1998 release, the band handed the finished recordings to Interscope--but the label rejected them. After the rejection, the band, worn out from the road and without an album to promote, decided to take a break to write new songs and didn't reconvene until 2000. Salvaging some of the
Feeler
songs, the band finally went back into the studio with
Rubberneck
producers Tom Rothrock and Rob Schnapf, and came out with
Hell Below/Stars Above
. The album was a commercial failure
That's when the
real
trouble began. The album was released in spring 2001, seven years after their debut and things had changed. Five months after the album's release, Lewis called the
Dallas Observer
to announce that bassist Lisa Umbarger had quit and that the rest of the band would not be continuing on as the Toadies. The band would reconvene sporadically to play a few dates in the Dallas/Ft. Worth area but did not officially reunite until 2007.
During the interim, Todd Lewis began a new band, Burden Brothers, with Reverend Horton Heat drummer Taz Bentley. The band released a full-length in 2006, but a funny thing happened with the Toadies. The band released a couple of live albums in 2002 and 2006, and sales were enough to suggest to Lewis that maybe the Toadies weren't dead after all. With some old members and new bassist Doni Blair, Lewis brought the Toadies back for a couple of local festival shows in 2006, and a year later, the Toadies hit the road for a small tour around Texas, hitting spots in Houston, Austin and Dallas.
After a couple of years of activity on their MySpace page, in May 2008, the group announced the release of their third album of all new material,
No Deliverance
. The album was released in August 2008 and received a big promotional push from the Toadies new label, Kirtland Records. The single "Song I Hate" shows the Toadies back to doing what they do best--hard, catchy rock that's derivative as hell, but still damn good.
So for all my blathering about post-grunge (and really, there is some horrendous crap out there), there are a lot of worse things in music than being unoriginal. If you're looking for a solid rock band that will bring to mind the greats of '80s indie rock/grunge, check out
Rubberneck
or
Hell Below/Stars Above
next time you're in a a CD store with a cutout bin or used section. And catch these guys on tour this year, their live show will melt your sneakers.
Download:
Toadies - Possum Kingdom
Download:
Toadies - Away
Download:
Toadies - Tyler
Download:
Toadies - Possum Kingdom (live)
MySpace page
Official Site
No Deliverance Official Site



Follow us on Twitter



*Collective Soul was really more of a pop-rock band that had been marketed and styled as grunge, but had no real connection to the genre and are unfairly labeled "post-grunge," even by assholes like me