The New Radicals could very well be the ultimate one-hit wonders. I will probably say that 73 more times before I ride my beaten up Dell laptop into the digital sunset, but this time I
really mean it
. Swear.
The band was the brainchild and more or less solo project of Gregg Alexander a.k.a. the bald guy in
The Hat
, who wrote and
produced all the group's songs. Alexander was a former rocker from Michigan who, as a teenager, made two unsuccessful solo albums in the early '90s--
Michigan Rain
and um,
Intoxifornication
(
click here to see one of his hilariously awful music videos
that looks like it was filmed in the
Lost Boys'
lair). He then briefly turned to professional songwriting for artists like Belinda Carlisle and The Bangles. When Alexander came to MCA with his new band in 1998, he was given a $600,000 advance for one album and soon delivered a hit song with the subversive "You Only Get What You Give," (#36 Hot 100) the first single from their debut album
Maybe You've Been Brainwashed Too
(#10 Billboard Albums).
While the band indeed
had
a second single, for once there was a legitimate reason why you didn't hear it. By the time it was being prepped for release Alexander was nowhere to be found. Why? We'll get to that. For now, we'll just go ahead and say that if you're going to the Sam Goody to find the latest New Radicals' album, keep holding your breath cause this is it. That's right, the New Radicals are part of the exclusive club known as "one-album wonders."
But first, the songs.
"You Only Get What You Give" is an excellent song. From the
Mick Jagger
aping vocals to the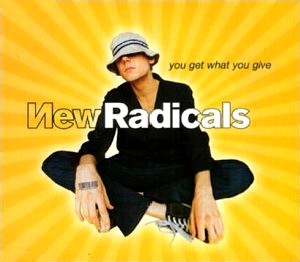 ringing piano intro, this type of masterfully constructed and well-produced pop was rare in the late '90s--something more akin to
Todd Rundgren
and
Hall & Oates
than any of the Radicals' peers. Since the New Radicals weren't really a band in the true sense (Alexander being the only consistent member), the best of the best of studio musicians were used to build a precise, layered sound.
Drawing as much attention as the song's catchy melodies were the lyrics. Bowing to the pop-culture reference gods that seemed to be the fashion in the late '90s, Alexander name checks several bands in the line: "Fashion shoots with
Beck
and
Hanson
/
Courtney Love
and
Marilyn Manson
/ You're all fakes run to your mansions/Come around we'll kick your ass in." The line gained infamy with the targets themselves, particularly Manson, who said he was upset only that he was mentioned in the same breath as Courtney Love. He claimed he would "crack his skull open" if he ever saw Alexander. But c'mon, didn't we all see that episode of
The Wonder Years
where Paul got his ass kicked? Manson's not gonna do anything but run to Fred Savage crying--plus, Alexander's got
The Hat
. The Hat clearly holds some sort of magical anti-anti-Christ powers, otherwise he wouldn't wear it every time we see him, right? It's like the Green Lantern ring or Venom's alien suit. Without it, he's just a normal bald guy--but when he puts it on, he's a superhuman songwriting machine; producing and singing songs as sociopolitical as they are catchy. Seriously, it's not just cause he's bald. I hope.
Alexander later claimed that the entire song was an attack on consumerism (the video
is
set in a shopping mall) and that the line was merely an experiment to see if the media would take notice of his social critiques or his ridiculing of celebs. Dude, I
totally
picked up on that.
Alexander's social critiques didn't stop there. In interviews he would often go on rants about the government, organized religion, and lack of funding for education and other social programs. Supposedly the other songs on the album also include some incendiary critiques. That's right, the
New Radicals
(the name suddenly makes sense!) would have totally taken down "the man" had America not been skipping them to get to the hit.
In fact, Alexander became so fed up with "the man" and consumerism that he basically quit his
own successful band (though I'm kind of doubting he gave back the 600 grand). To explain: the band had a planned tour of the UK, but had a warm up date at a festival in Atlanta. When Alexander failed to show, the band's people released a statement saying that someone in the band had taken ill, conveniently not naming names. Then, after filming a video for the second single "Someday We'll Know," Alexander issued a press release two weeks before the release date saying that the band was kaput.
Some choice quotes from said press release:
"

I view myself much the same as a just getting started Babyface or Matthew Wilder

(No Doubt producer), who dabbled in performing, but whose real calling was being a producer.

" (Whoa, whoa, whoa, Babyface and Matthew Wilder? Someone's getting a little too big for their britches. Let's scale it down a notch. You're like a young Mutt Lange at best)

"I'm more interested in being the next Mutt Lange than a performer."

(Now we're talkin! And with Shania Twain newly single, this is now all the more possible)
"I'm going to be turning thirty next year, and realise that the fatigue of travelling & getting three hours sleep in a different hotel every night to do boring 'hanging and schmoozing' with radio and retail people, is definitely not for me ... now I can do what I do best."

(Wear magical hats?)




"

Over the last several months...I was wearing a hat while performing so that people wouldn't see my lack of enthusiasm."

(Nice try explaining away the hat, I

almost

fell for it. Oh yeah, and can you be)

"I'd lost interest in fronting a 'One Hit Wonder'"

(GASP! An admission that the band might not have the longevity of The Rolling Stones??)



Given
Alexander's bitch fit
the band's break up, "Someday We'll Know" got almost no promotion and as a result, didn't chart on the Hot 100, only barely breaking into the Adult Top 40. Like, "YOGWYG," "Someday" is a very good song--maybe even better than the hit. It's a ridiculously catchy, mid-tempo love ballad and one that proves Alexander had the chops to write a killer hook. The tune has subsequently been covered by several artists that Alexander went onto produce (spoiler alert!) such as
Mandy Moore
and
Hall & Oates
, proving that it had staying power beyond your average second single. Here's the Radicals' final video (WARNING:
the all-powerful Hat
makes a cameo)
Alexander has, in recent years, made his dream of becoming an in-demand pop producer and songwriter a reality, working with
Rod Stewart
, two
Spice Girls
and writing
Michelle Branch
&
Santana's
Grammy-winning "The Game of Love" (I've never heard it either). He's also done work under aliases such as Alex Ander (NICE!) and The Party People. So mysterious! Always keeping that...huge...audience...on their toes! He also released an uncredited one-off track in 2003 called "A Love Like That"--believed to be a
Brainwashed
outtake. In 2007,
Weezer
frontman
Rivers Cuomo
included an early demo of an Alexander song he recorded circa 1992 titled "The World We Love So Much" on his collection
Alone
.
Who knows what the Radicals could have done had they stuck together? They're one of the few bands who had the smarts and talent to become something more than one-hit wonders. Maybe. Fans around the world still hold out hope that Alexander and/or the Radicals will someday release new music, though it seems that the man is now using The Hat only to help others, and perhaps that's for the best.
More power to you, Gregg, and never lose the power of
The Hat
.
Download:
New Radicals - Someday We'll Know
Download:
New Radicals - You Only Get What You Give

New Radicals MCA Website
Danielle Briseboise